Kathi Thomas began working in her parent's nursery and florist when she was 12, "growing up" in the floral shop. She worked part time all through high school and college, and, after teaching band for a year, decided that flowers and weddings were where she wanted to spend her time. Kathi said "I enjoy the creativity of weddings and like helping people on their happiest day."
Kathi managed her parents' shop in Southeast Texas for 8 years, then moved to Austin and was the production manager for a florist here. After a year, Kathi began her own wedding business as she worked for one of the floral wire services. 1990, Kathi incorporated her business, taught floral design in her state-accredited private floral design school, and has been busily designing wedding flowers ever since. In 1995 Kathi closed her design school, and then taught floral design at ACC for three years. Since 1998, Kathi has been full time as a wedding floral artist, specializing in weddings and other special events, and as a wedding consultant.
Kathi is a past Houston Designer of the Year, a member of the prestigious American Institute of Floral Designers (AIFD) since 1983, Professional Floral Communicators International (PFCI), and was in the first class of Texas Master Florists (TMF). She was a founding member of the Austin Wedding & Events Coordinators (AWEC). She served as President of AWEC in 2002.
Kathi was accredited by the Association of Bridal Consultants as a Professional Bridal Consultant.
Kathi was the winner of AWEC's "Extemporary Customer Service" Award for 2000, and was one of AWEC's "Award of Excellence" recipients for 2001, 2002, 2003 & 2004, (all the years this award was presented.)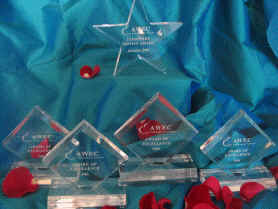 Kathi is also the head wedding director at Central Presbyterian Church which is available for non-member weddings.